Indianapolis Electric Vehicle Charging Station Installation

Residential Electric Vehicle Chargers
Commercial Electric Vehicle Charging Stations
Trusted & reliable EV (Electric Vehicle) charging station installation for just about anywhere you'd like to power-up.
We Know EV Charging
Your Indianapolis Area EV (Electric Vehicle) charging experts

Zimmerman Electric is a reliable and trusted provider of high-quality electric vehicle (EV) charging stations and installation services for both residential and commercial properties in Indianapolis. We are committed to supporting the growth of EV charging infrastructure and helping our clients reduce their environmental impact while enjoying the convenience of electric vehicles.

Our licensed and experienced electricians are skilled in delivering safe and professional installation services, using premium products from top manufacturers like Tesla, JuiceBox, Clipper Creek & more. We offer a range of charging station types, including Level 1 and Level 2, catering to the unique needs of each client.

We understand that each property has unique requirements, and as such, we offer a range of electric car charging stations with unique designs to cater to different property types. Our services cover all types of properties throughout Indianapolis, including residential properties, multi-resident properties, hotels, car dealerships, car rental facilities, parking lots and garages, workplaces, retail centers, and more.
Why Choose Zimmerman Electric?

At Zimmerman Electric, we are proud to serve the local Indianapolis area and surrounding communities with our trusted and reliable installation and servicing of electric vehicle charging stations. Our experienced and licensed electricians are passionate about providing exceptional service to our clients, and we understand the importance of having a convenient and reliable charging solution for your home or business.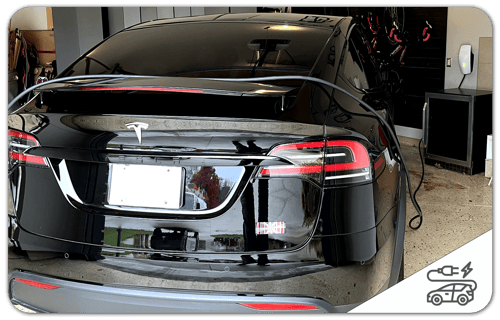 We are committed to using only the best products from leading manufacturers such as ChargePoint, Aerovironment, Clipper Creek, Bosch, GE, Blink, and Schneider to ensure that you receive top-tier quality workmanship. Our team offers a variety of charging station types, including Level 1, Level 2, and DC Fast Charging, to meet the unique needs of each client.

Whether you're a homeowner seeking a more efficient and convenient way to charge your electric car or a business owner looking to attract influential customers or a new generation of employees with commercial EV charging stations, our experts are here to help. At Zimmerman Electric, we take great pride in ensuring your complete satisfaction with our work and providing exceptional customer service.

Choose Zimmerman Electric for all of your electric vehicle charging needs, and trust us to help you reduce your carbon footprint while enjoying the convenience of electric vehicles. Contact us today to learn more about our services and how we can help you achieve your EV charging goals.


See Our Work
Recent EV Charging Solutions & Installation Projects

Top-Rated

Indianapolis Electrical Services
Proudly Serving Indianapolis & Surrounding Communities.