Welcome To Zimmerman Electric

Zimmerman Electric is a family-owned and operated electrical company, passionately serving Indianapolis and surrounding communities. Founded by Zach and Kara Zimmerman, our company is built on Christian values and a commitment to providing exceptional customer service. We strive to be the hands and feet of Jesus each day, caring for our employees and serving our customers with honesty, integrity, and professionalism.
Dedication To Customer & Community

As a local business, we take pride in being a part of the community we serve. We have earned the trust and loyalty of our neighbors through our dedication to excellence and our unwavering commitment to customer satisfaction. Whether you require a quick repair or a complete electrical overhaul, Zimmerman Electric is here to deliver reliable, top-notch service that you can depend on.
Our team of experienced and skilled electricians specializes in both single-family and multi-family residential electrical services, as well as commercial electrical services, installation, and repair. No matter the size or complexity of the project, we are equipped to handle it with precision and expertise. From small wiring fixes to large-scale remodels and additions, we approach every job with the goal of providing high-quality, code-compliant work that meets or exceeds industry standards.
At Zimmerman Electric, we understand the importance of effective communication. We prioritize prompt and transparent communication with our clients, ensuring that we understand your needs and preferences from the start. By maintaining an open line of dialogue, we strive to ensure that every project is completed to your utmost satisfaction.
In addition to our commitment to customer service, we also value the power of consultation. We provide thorough consultations to explain your available options, enabling you to make informed decisions about the scope of work that best suits your home or business needs and budget. With Zimmerman Electric, you can expect comprehensive guidance and support throughout the entire process.
We believe in saving you both time and money. By combining our extensive experience, the use of high-quality parts and equipment, and our dedication to exceptional service, we aim to deliver efficient solutions that meet your requirements while staying within your budget. Our team will not rest until the job is completed to your satisfaction, ensuring that your electrical needs are met with the highest level of professionalism and care.
For all your residential and commercial electrical needs, trust Zimmerman Electric to be your reliable partner.
Contact us today to learn more about our services and discover how we can assist you in achieving your electrical goals.
Areas We Service

Looking for a locally trusted electrician that comes highly recommended? Zimmerman Electric proudly serves most counties across central Indiana, and we're always happy to speak with you about jobs outside of our regular service area, if it's a good fit for our team!
Most commonly, you'll see a Zimmerman Electric truck in Marion County and surrounding areas, such as:
Boone County

Hamilton County

Hendricks County

Morgan County

Johnson County

Shelby County

Hancock County
If you're not sure, give us a call at 317-939-9197 and we'd be glad to speak with you about your electrical needs!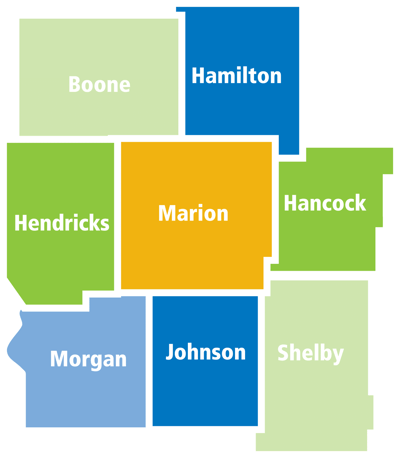 Meet Our Team

Top-Rated

Indianapolis Electrical Services
Proudly Serving Indianapolis & Surrounding Communities.